I bet there was at least one time that you had a dream of robbing a bank, open the safety vault and take as much pieces of money and bars of gold as you can. Well, now you have this opportunity in the slot game "Bank Robbers". You'd better start the game and try not to get busted by the policeman.
How to play Bank Robbers?
To begin with, select your bet, maximum bet per game is 2500. The bet depends on your wish, click the arrows left or right to set the bet in the lower part. Start spinning by clicking on the green button and take your winnings. During the game you are going to see striking symbols. Let me tell you what they mean.
The big bold guy looking like the lead gangster is the WILD symbol. It substitutes for other symbols except for the gold credits symbols to help you win more.
CREDIT symbol is the best symbol for you because if you have more than 6 of them on the reels, you go playing Bonus Game and have a chance to win Gold Reserve Jackpot! For this you need to fill-in all the positions with credit-symbols in the Bonus game.
A little about Jackpots
Bank Robbers offer you hit 4 kinds of jackpot:
GOLD RESERVE. At least 50,000 credits
SILVER RESERVE. At least 5,000 credits
BILL RESERVE. At least 750 credits
COIN RESERVE. At least 500 credits
Three SCATTER symbols give you 5 free spins. During free game you can also have the 3 scatter symbols and get more free spins.
After every winning line a player is offered to play a risk game. You can choose its type, either Dealer or Red-or-Black game in the settings clicking the 50/50 sign. The rules are clear for both of them.
In the Dealer game you have 5 cards in front of you. One of them is face-up. You have to select one card among the rest four. If the picked card is higher than the card of the Dealer, then your win is doubled, if not – lost. You can play 5 rounds in total.
Red-or-Black type of game offers you a pack of cards in the middle. By the sides there are "Black" and "Red" buttons, click one of them and see if it matches the color of the card in the middle. Matches – your win is doubled, does not match – lost.
The same is with the suits of cards in the lower part of the game. But it is a bit more difficult, you have to select the corresponding suit of the card in the pack. If they match – your win is multiplied 4 times.The Bank Robbers have really convenient settings, like full screen gaming or autoplay, you can set it on a number of games or turn it off at all.
Pros
2 types of risk games
Settings
Bonus gambling games
Full screen option
Autoplay options
Cons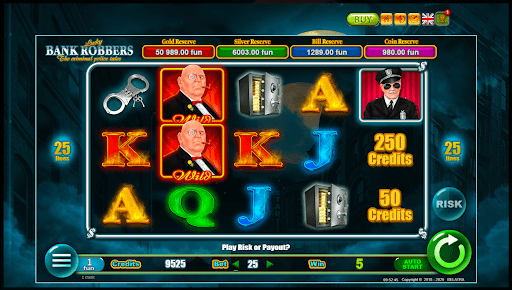 More articles on gambling topic