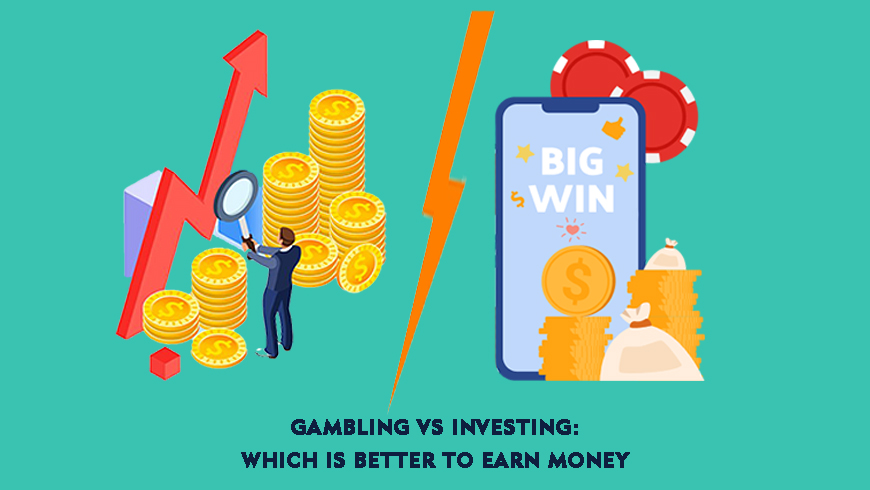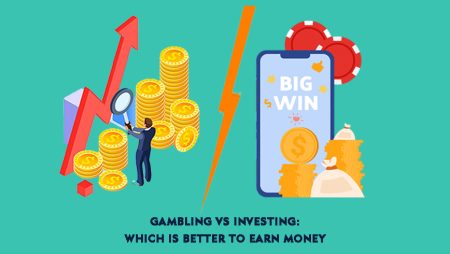 Gambling and investing are absolutely different things but some people often mix up the two definitions. Sure, there's a level of risk in both things but there are differences between them. While gambling is more about excitement and fast results, investing is about researching and well-thought decisions. After reading this post, you will know the difference and you will understand which is better to earn money in your actual case.
There are thousands of online casinos that offer games for real money. Players can win amounts in a matter of seconds. There are bitcoin casino sites and sportsbooks that can also be used for earning money on gambling.
Investing is a different thing, and of course, casino sites are not the place to invest. Read below why.
The Basis
Outcomes in gambling depend on luck and the mechanics of games. Results in investments require research of financial situation, political news, and other factors.
Gamblers want to get emotions of excitement and adrenaline from staking big money. But investors need to be cool-minded while understanding their risks and goals.
Gambling does not depend on external factors except for live sports betting where the results of a match determine the outcome. Investing can get out of control with one big news that shakes the entire market.
The Result
The result of both activities is different too. When people invest, they become owners of corporations and companies as they buy their shares. As time goes by and if the companies grow their income, investors receive a part of the income depending on the size of their investment.
However, when you fund your casino account, you can either multiply your money or lose it. You don't own any assets, and your vote doesn't decide anything.
The Interval
Gambling and investing have different time intervals. Thus, gambling is rather a short-term activity. Most players can put money on games and in a few minutes double the amount. Sure, professional gamblers use certain strategies that allow them to earn money in the long run.
Investors use different tools for earning profit. Most of them invest in the long run. The period may last years. Short-term investments include bonds, debt funds, trading, and other market instruments.
The Risk
Usually, players go all in when gambling online or at land-based venues. They take risks by staking their last money or big money. And in the end, they either get rewarded or are left without a cent. Of course, some players manage to leave some money for themselves, but they are super self-controlled.
In investing, people don't give all their money. They monitor income and expenses; they save money and invest only that part of the money they can afford.
In gambling, players always risk losing money. And in most cases, they lose it due to their inability to stop playing at the right time. In investing, people can move their money from one fund to another and recover losses. But this should be made with tactics and research as well.
When gamblers lose, they lose it all. And they can only recover the money by depositing more money. Investors can use their investments and dividends from different sources to invest in another asset and recoup the losses.
The Strategy
Although there are lots of tips and strategies for winning certain casino games, earning money gambling is still not a thing that you can plan and reach consistently.
Investors don't invest for fun. They have a firm plan of how they can reach their goal by investing money. For example, people can invest money to leave for retirement or save money for college with the help of investing tools.
In other words, investing implies planning and completing future goals, while gambling can help make a dream come true only when luck is looking your way.
The Addiction
Sure, there are investors that do it for the whole of their life. It's their job, hobby, whatever. But it isn't addictive compared to gambling.
Real money casino games cause problems. Some players gamble very compulsively. They can't stop till they get back their losses or till they make enough (where enough is an unlimited amount). This leads to problems with health, money, family, friends, and so on.
At the same time, investing maintains a healthy economic sphere of life.
Now, What Should You Choose?
Having a job or a business is the best form of earning money, for sure. However, if you want to have additional funds, there are two ways you can follow. You can go invest in the stock market or you can gamble at online casinos. Or you can do both but make sure you have enough funds for the two.
Besides, you can make a decision depending on your desire and goals. Thus, if you want to save money for a vacation, it's better to invest money in assets. If you want to have fun or experience the excitement of winning a jackpot, go straight to the best gaming site.
You can also decide which way to follow considering your budget. For instance, if you are on a budget, you can try to win more money by staking low. Or you can choose investments and reach your goals gradually. Mind that it will take time, a lot of time.
On the other hand, if you have a lot of money to spend, have fun at casinos and invest in assets to provide yourself with a safe financial future.
Learn to see this thin line between the two definitions. Gambling is not investing since you don't necessarily get money back from your stakes, while when investing, you will always have a share of a company that you can sell.
Speaking of investments, learn more about stock market online casino easy verification. Maybe you'll find something interesting.
Rate this post, please:
5
4
3
2
1
FAQ
Firstly, make sure you have enough money to invest. These funds must be free money that you don't have to use anywhere like bills or loans. Then, you need to spend some time researching the market and learning the investment tools. As you do this, you can try to make your first investment and buy an asset. However, don't forget that you can always come back to online casinos to have fun and relax.
Of course, you don't. Online casinos are platforms to have fun. If you don't gamble to make a living, you don't need to invest big money. Just deposit the amount you think you can afford to lose right now and play.
You need to have a plan in your head, or better on paper. Plan how much money you can afford to lose on games and leave this sum for gambling. And when you actually play games, do not deposit more money than you have set. In practice, use the card or e-wallet with a definite amount of money. Cash out the remaining money so you don't have the desire to deposit it.
More articles on gambling topic