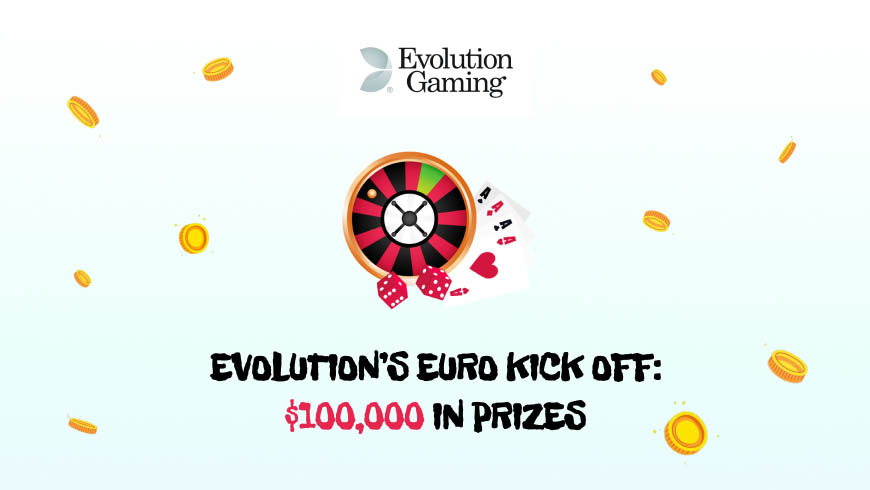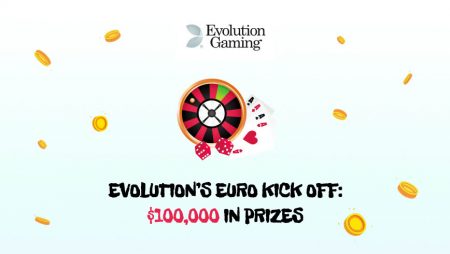 Live casino leader is here to make all of you happier and a bit richer in their Euro Kick Off Promotion. Evolution gives out prizes totalling to $100,000 to the players of Canadian online casinos. From June 7 to July 12, only 60 participants will take their share of $100,000 in pure cash. To learn more details about the Euro Kick Off promotion, keep reading. And to start off, simply join one of the qualifying online casinos that provide games from Evolution and their Euro Kick Off promo!
Where to Play Euro Kick Off
Choose these casino sites to play Euro Kick Off and win thousands of dollars extra to your budget. Before making your decision on a certain casino, you can read the review of each by clicking on its name.
Details of Euro Kick Off
From June 7 02:00 CEST till July 12 at 01:59 CEST, you can take part in the promotion to win the top prize of $2,000 or a smaller prize of $1,500. You can win multiple cash rewards, so you can bet as much as you want to win the amount.
The prizes are big, but we are here to assure you that no wagering requirements are set for the promotion rewards. So, play the games knowing you'll take cash home!
How to Play & Win $100,000
Play the qualifying games from Evolution and win a prize draw entry by wagering $500. Every day, you can receive up to 5 entries for the draw. There will be three prize draws during the time of promotion. Play the Evolution games on following dates and receive your cash prize:
From June 7 at 02:00 CEST till June 19 at 01:59 CEST, 20 players will get prizes worth $1,500. The prizes will be given out on June 25.
From June 19 at 02:00 CEST to July 2 at 01:59 CEST, 20 more players will get their chance to win $1,500 in cash. The prizes will be drawn on July 8.
From July 2 at 02:00 CEST till July 12 at 01:59 CEST, 20 casino players will receive $2,000! Remember that prize draw will be set out on July 15.
Simply put, you need to wager $500 on a qualifying game. However, you should not split the wagers into games. For example, if you bet $300 on one game and $200 on the other, it won't count towards the promotion, and you will not receive the prize draw entry.
At the end of each period, the number of entries resets to zero, so you need to earn them again by wagering the other $500.
There are certain restrictions if you are gambling from Canada. Live games from Evolution are not available for the players in British Columbia, Quebec, and Manitoba. Unfortunately, this Euro Kick Off promotion is not available for you, if you are a resident of one of these provinces.
Participating Games from Evolution
The rules of Evolution's promotion are set for three qualifying games. In other words, you can get a reward by playing the following three games:
Crazy Time Live
This Live game from Evolution represents a money wheel with the main game and four bonus games. To win a prize, you need to place bets on numbers 1, 2, 5, or 10 and bonus games. When the game starts, the Top Slot is activated. It shows the random winning spot and a multiplier. If you've bet on this spot on the wheel, you win!
The four bonus games are Cash Hunt, Coin Flip, Pachinko, and Crazy Time. They feature different game rules, but the prizes are a lot bigger with up to 20,000x your bet!
Live Lightning Roulette
If you are interested in live casino, you may have already played this awesome roulette game live. Lightning Roulette is one of the most popular Evolution games. It features Lucky Number and Lucky Payouts. Now you have a chance to boost your budget with extra cash prizes from Evolution.
The user interface and design of the game impresses everyone who comes to Lightning Roulette for the first time. Place bets on the numbers and colors as you would do so in a regular roulette game. But Lightning Roulette features a lightning that strikes one lucky number. If you selected this spot, congratulations, you've just multiplied your bet up to 500x.
Live Football Studio
Football Studio game is a card game with very simple game rules. While you are placing bets on who's winning — Home, Away. or Draw, you are engaged in the full representation of the football match. You hear commentators, goal celebrations and chat with the other football fans who are playing with you at the moment.
Bet $500 on any of these three games to win up to 5 prize draw entries a day. Remember that you should not split the wagers and bet the total of $500 on different games. One game — $500 wagered.
Kick Off That Euro!
Evolution launches not so many promotions, but when it does, these are top promotions. Euro Kick Off is especially valued because you can win extra money by playing live games. Most promotions are based on slot machines, but Euro Kick Off is something different. Take a break from slots and participate in the live casino promotions from Evolution to have a more thrilling experience of live gaming. Real money winnings from games and cash prizes from the promo are a great boost to your budget this summer.
Follow our gambling blog to be first who finds out about the best online casino bonuses in Canada.
Rate this post, please:
5
4
3
2
1
FAQ
Gambling regulations in Canadian provinces of Quebec, British Columbia, and Manitoba are different from those of other provinces. According to their legislation, you can't play Evolution games on any offshore site. However, you can play the live games only on the provincial lottery sites. So, if you are a fan of Evolution and live in Quebec, BC or Manitoba, access to live games only via lottery sites.
All games are fascinating as they feature high-quality graphics and sounds. All games participating in the Euro Kick Off are RNG based. Though we would recommend playing Lightning Roulette because you will get big impressions from the effects and the multiplied winnings. Crazy Time is also a game to taste a few times. It features four bonus rounds and great multipliers. Still, tastes differ, so we advise you to try all of them and decide which one is best for you.
Yes, you can. It's possible that you wager ten times per $50 on qualifying games for the Euro Kick Off promotion. However, make sure that you wager the total of $500 on one participating game. If you bet $150 on Crazy Time and $350 on Lightning Roulette, you will not receive your prize draw ticket.
More articles on gambling topic