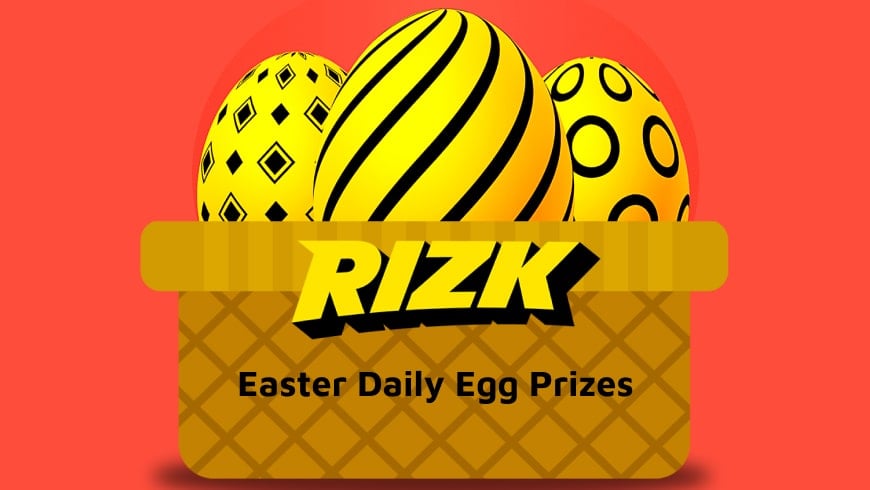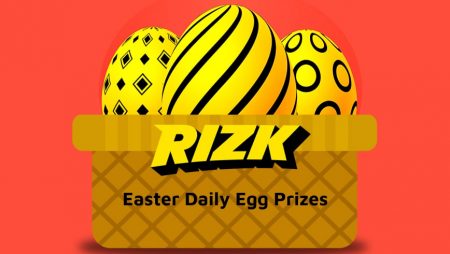 Easter is coming on the 4th of April this year, so get prepared for the holiday! And since this festive day is coming very soon, online casinos begin their Easter promotions. We will update the latest casino offers so that our readers are the first to find out and win their best prizes! So don't miss out on the news on our gambling blog!
Today, we are telling about Rizk Casino and their Easter promotion "Pick an Egg" that has already started and will continue for three weeks up to 12th of April 2021! The promotion includes many prizes such as free spins, $500 jackpot, cashback, and other super cool perks for Rizk players. Read on to find out more.
How to Grab Easter Prize
You can take your prize in the easiest and the most Easter way — just crack that egg! But seriously, you need to take these steps:
Log in or sign up at Rizk Casino if you aren't yet its customer. And don't forget to make a deposit because otherwise you won't be eligible for the egg prize.
On the casino page, you'll see the three Easter eggs. Pick one of them.
Go to your Rewards page to claim the gift.
Do it every day until promotion stops!
The promotion is valid till April 12 at 16:59 (GMT-6). So, make sure to join Rizk as soon as possible to get more prizes! And now let's get straight to the prizes themselves!
Easter Prize 1: Spin The Jackpot
This promo is more like a tournament where players are given 1 free spin on John Hunter and the Book of Tut. By the end of this promotional day, a player who got the highest single spin win amount is winning $500 Jackpot!
Easter Prize 2: Real Money Jackpot
An Easter egg can be hiding a real money jackpot which is credited to your own balance. This means you can either play it on games or withdraw! No wagering requirements are applied to any of the Real Money Jackpot rewards. Getting this promo, you can grab $100, $150, $200, or $500!
Easter Prize 3: 60 Minutes & 120 Minutes Double Speed Chips
A Double Speed Chip is a great chance to level up at Rizk casino twice faster than you can!
As stated in the offer, you can win either 60 minutes or 120 minutes of double speed. These chips count all wagers you place on games as double. This means you will level up and fill your progress bar twice quicker than usual. Thus, you will open new rewards according to your higher level.
However, you can't do so with live games. So, we recommend using this chip while playing slots.
Easter Prize 4: 60 Minutes & 120 Minutes You Play, We Pay Chip
The chip is awesome, and let us explain why. First, you can grab either 60 min or 120 min of this chip activation. And here's what to expect from each of them:
60 minutes You play, We pay
During this promo, you need to play at least 50 game rounds to qualify for the bonus money. As you play, you obviously win and lose. So, after 60 minutes play, you can return 10% of your net winnings if your wins are higher than your losses. And you can return 20% of your net losses if you lost more than you won. The cashback will be credited as bonus money up to $20 and up to $40, respectively.
120 minutes You play, We pay
With a 120-min chip, you need to play 100 game rounds to qualify for the bonus cash. The scheme is the same as previously but with different amounts of money. After 120-min play, you can return 10% of your net winnings if you won more money than lost. And you can return 20% of your net losses if you lost more than you won. The bonus money up to $40 and up to $80 will be credited to your bonus account.
The bonus money must be wagered 15 times before actual withdrawal. This means if you won as much as $80, multiplied by 15, you'll have to wager $1,200. We recommend doing so on slots as their contribution towards the requirements is 100%.
Easter Prize 5: 10% and 25% Cashback Chip
You've already guessed how good this prize is! Cashbacks are cool, but let's take a look at the details to know how to use it right at Rizk Casino.
The cashback offer has a strict time frame: 60 minutes for 10% cashback, and 120 minutes for 25% cashback.
To qualify for the cashback of 10% and 25%, you need to play either 50 game rounds or 100 game rounds, respectively.
You can get cashback on net losses when you play slots and casino games. So, live games won't qualify for this offer.
Easter Prize 6: Deposit and Get Extra Spins Chip
This chip is amazing for three perks. First, your deposit ranges only from $20 to $50. Second, you can get up to 50 spins. And finally, neither extra spins nor winnings from it have wagering requirements! This is perhaps the best wager-free bonus ever!
So, when you pick an egg and see the Deposit and Get Spins Chip, you can face one of the six chips:
Deposit at least $20 and get 20 Free Spins on Holiday Spirits ($0.10 per spin).
Make a deposit of at least $25 and get 25 Free Spins on Book of Dead ($0.10 per spin).
Deposit a minimum of $40 and get 40 Free Spins on John Hunter and the Book of Tut ($0.10 per spin).
If you deposit $50, you get 50 Free Spins on John Hunter and the Book of Tut ($0.10 per spin).
Another $50 deposit and you get 15 Super Spins on Sweet Bonanza ($1 per spin).
Deposit at least $50 and get 10 Mega Spins on Sweet Bonanza ($3 per spin).
Easter Prize 7: Level Up Reward
The Level Up Reward will be given to you within 24 hours if you manage to move up the level during this time frame.
In fact, the reward is random. So, you can receive one of the following: Free Spins, Super Spins, Mega Spins, $10-$100 cash.
To be more specific, you can receive 20 Free Spins on Holiday Spirits, 15 Free Spins on Book of Dead, and 30 Free Spins on John Hunter and the Book of Tut. These spins are free of any wagers and can be played only at $0.10 per spin.
As for Super Spins, you can get 5 or 10 Super Spins on John Hunter and the Book of Tut, and 20 Super Spins on Jingle Bells. Play them at $1 per spin and withdraw your winnings without meeting any wagering requirements.
Mega Spins are given in the number of 10 spins on Sweet Bonanza. Play them at $3 per spins and grab your wager-free winnings!
The cash money ranging from $10 to $100 is yours as soon as you claim the offer from your Rewards page.
Easter Prize 8: Free Spins
The free spins prize comprises 5 or 10 spins on Holiday Spirits. You can play them at $0.10 per spin and take your winnings without the need to complete wagering requirements.
Easter Prize 9: Super Spins
Super Spins are included in some of the aforementioned prizes. But the 9th prize singles out the Super Spins that you can play only at $1 per spin. Getting the Super Spins Chip, you can play 5 or 10 Super Spins on Jingle Bells game.
Easter Prize 10: Mega Spins
You can grab 5 Mega Spins and play them on John Hunter and the Book of Tut at $3 per spin. As usual, Rizk doesn't impose any wagering requirements on the spins and winnings from them.
Easter Prize 11: $500 Reload Bonus
Finally, a 50% Reload Bonus up to $500 can be yours once you pick the right egg!
To claim the bonus, you need to make a deposit of at least $10, but don't do it via Neteller or Skrill.
This prize has a wagering requirement of 20x. Anytime you can end this promotion and keep your deposit money and winnings you made with the deposit.
We recommend placing wagers on slot games. Table and live games contribute only 10%, and video poker games don't contribute at all.
Celebrate Easter with Rizk Casino!
Rizk Casino stands out for unique promotions that they update almost every week. The best thing about Rizk offers is that some of them don't have any wagering requirements. This sounds like a paradise for casino players! If you don't believe it, go to Rizk casino and see for yourself!
We also encourage you to follow our gambling blog and check up on the best casino rewards and offers.
Rate this post, please:
5
4
3
2
1
FAQ
The reasons for holding back your withdrawal are different. Sometimes, you can't cash out because you violated the bonus rules or other specific terms of your casino. In this case, we advise you to read the T&Cs thoroughly or contact the customer support. If nothing helps, you might be facing a scam casino. So, check it for legitimacy and make a complaint to their regulatory body if it has one.
There is no minimum bet to be eligible for the prizes. You can wager as low as $0.10 or less and get a cash drop or complete the missions. In other words, you can place any bets to participate.
Every professional gambler will say that every slot is unique. They have different features, bonuses and payout coefficients. And this is true. The slots are produced by talented game providers who make each slot a piece of art. Every slot has a story, interface design, interesting symbols, and characters. They all have combinations of lines. Players need to collect as many identical symbols on active lines as possible.
Some slots feature wild symbols. Wild symbol works like a joker, it replaces other symbols on the reels, if needed. Sometimes, wild symbols can make their own paying combination, which usually pays very well.Some slots include progressive jackpots. It means that the jackpot is cumulative. So, while you play a progressive jackpot slot, you can win the jackpot randomly. Now, let's discuss the tips which will help you win online slots more often.
Choose the slot with the highest payout. Before playing, make sure that the RTP of the slot is high enough. The average RTP is 96%.
Define the volatility of the slot. This feature measures the risk involved in the game. Low volatility — regular but small wins. High volatility — big wins, but not regular.
Trust other players. Before you start spinning the reels, we recommend reading as many reviews as you can to identify a good slot that pays well.
Benefit from free spins. In many casinos, you can get free spins as a welcome offer. Don't miss a chance to spin for free.
It's easy to play slots and win. You just need to use a bit of luck and specific tips in your game. You can find a big number of slot reviews on our site. We highly recommend reading them before playing.
More articles on gambling topic