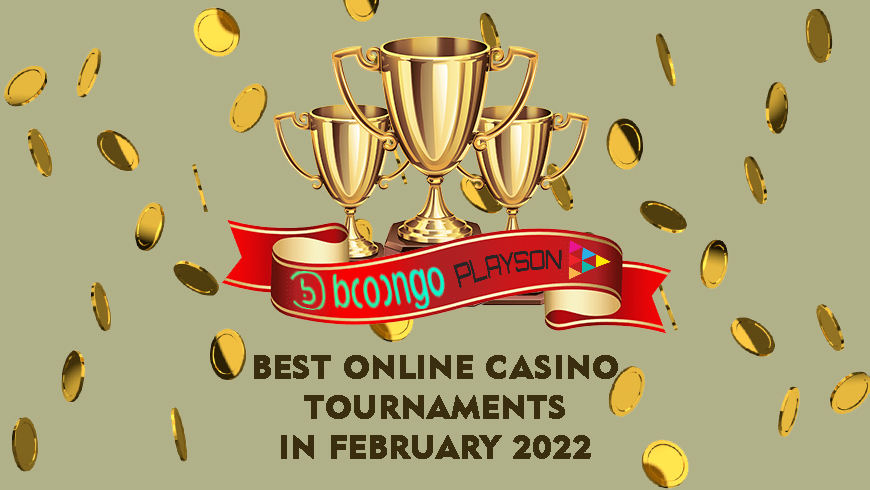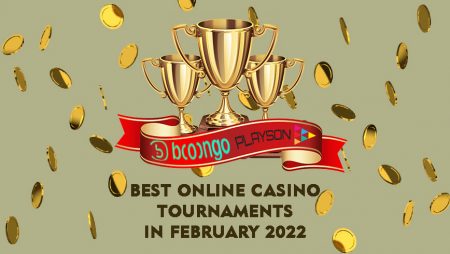 Last month of winter Canadian casinos have decided to cheer up players and give away cash prizes, and daily drops. Check out this post and pick your favorite offer from the best online casinos. Or you can participate in both campaigns at the same time to have more chances to win cash! Below, we tell you about the two major February tournaments giving away 220,000 euros in total.  Make sure to read the promotional rules before you participate in these winter campaigns.
Booongo: Spin Me Tournament €120,000

From February 1 till 23:00 UTC on February 14, players can compete for the prizes in regular tournaments and series leaderboard competitions. The total prize pool for two weeks is 120,000 EUR. Join the fun at the following casinos in Canada:
The campaign has the following structure, dates, and prize pools:
Week 1: Feb 2 — Feb 7
7 daily regular tournaments with a 7,000 EUR prize pool each
Series Leaderboard with a prize pool of 11,000 EUR
Week 2: Feb 8 — Feb 14
7 daily regular tournaments with a 7,000 EUR prize pool each
Series Leaderboard with a prize pool of 11,000 EUR
How to Participate and Score Points
Before you take part in a tournament, make sure to sign up at a participating casino and make a deposit. Then, do the following:
Open qualifying games from Booongo.
Place bets of at least €0.50.
Make at least 100 spins to qualify for prizes.
Earn as many leaderboard points as possible.
The Spin me tournament has a complex scoring system, meaning players can collect points in multiple ways.
Players receive 1 point for each 1 euro won. For example, if you bet 10 EUR and win 100 EUR from that single spin, your score is 100 EUR.
In the multiplier race, players will receive 1 point for each x1 multiplier within a single spin. For example, if you wager 2 EUR and win 120 EUR, your score should be 60 points because 120/2=60.
Plus, players collect 200 points for passing qualifications in each regular tournament. And for every 100 EUR wagered in regular tournaments, you get 1 point.
As a regular tournament finishes and you know your position on the leaderboard, you can get extra points, depending on your place (1st — 1000 points, 2nd — 500 points, 3rd — 250 points, 4th-5th — 200 points, 6th-10th — 150 points, 11th-100 — 50 points, 101th-200 — 30 points).
Prize Pools
Finally, when all points are collected and counted, you receive a cash prize according to the pay-table. Prizes for winners of regular tournaments range from €700 to €20. In total, there are 200 winning places.
When it comes to Series Leaderboard, winners can get paid higher. The top three winners receive €1000, €750, and €500 respectively. The lowest cash prize is €20. The total number of winners is 250.
Rules of the tournament
Before spinning Booongo reels, players need to familiarize themselves with the terms and conditions. Here's what you need to remember about the Spin Me tournament:
You can only play Sun Of Egypt, Aztec Sun, Book Of Wizard Crystal, Wolf Night, Black Wolf, 15 Dragon Pearls, Hit The Gold, Scarab Temple, Sun Of Egypt 2, Magic Apple, Dragon Pearls, Gold Express, 3 Coins, Tiger Jungle, Wolf Saga during the tournament.
To be eligible for prizes, you need to qualify for the tournament.
You can use only real money. So if you have any bonus money, make sure to get rid of them.
There is no entry fee other than the price of a spin.
Prizes will be paid out automatically.
This is how easily you can take part in the tournament and win cash prizes. Get ready for Valentine's Day together with Booongo! Grab your cash prize and treat your other half with a great gift!
Playson: Daily Blasts €100,000

Another software provider that decided to reward players with awesome cash gifts is Playson. Sign up at the best Playson online casinos to take part in the Daily Blasts competition with a prize pool of 100k EUR:
The tournament starts on February 1 and finishes at 23:59 UTC on February 28. Daily Blasts is split into four phases. Each phase is a separate tournament that lasts for 7 days and has a prize pool of 25,000 EUR:
1st phase runs between February 1 and February 7
2nd phase starts on February 8 and ends on February 14
3rd phase runs from February 15 to February 21
4th phase is between February 22 and February 28
If you miss a phase, you can take part in the next one. So don't worry if you start "too late". The idea of Daily Blasts is that anyone can win big or small prizes. Players don't have to collect points or compete for the top position. The prizes are offered randomly.
How to Participate and Win Prizes
As we said, winning a cash prize from Playson is easy. But you need to play the tournament in a proper way:
Sign up at a participating casino.
Make a deposit.
Open qualifying games.
Make wagers of at least €0.50 per spin.
Play games and try to trigger a random cash prize drop.
Any participant can win more than one prize during the promotional period. So it's certainly worth staying and playing until the end.
Prize Pool
Since all prizes are random, there is no point in competing for first place. During all four phases of the campaign, players can be lucky to get multiple cash gifts from a 100,000 EUR prize pool.
Each 25,000 EUR prize pool includes the following number of cash rewards:
1 prize of €5000
1 prize of €2500
2 prizes of €1000
6 prizes of €500
10 prizes of €200
20 prizes of €100
30 prizes of €75
55 prizes of €50
100 prizes of €20
150 prizes of €10
As you can understand, it's very easy to get a €10 or a €20 prize. But it's very difficult to win the biggest prize of €5000. When a prize is won by someone, its amount is removed from the remaining prize pool.
Rules of Daily Blasts
Make sure to read the terms before participating in this campaign from Playson. Keep in mind the following:
Players can win cash prizes in the following Playson games: Book of Gold: Multichance, Diamond Fortunator: Hold and Win, Buffalo Power: Hold and Win, Solar Queen Megaways, Divine Dragon: Hold and Win, Diamond Wins: Hold and Win, Buffalo Power Megaways, Eagle Power: Hold and Win, Sevens & Fruits: 20 Lines, Royal Coins: Hold and Win, Solar Queen, Joker's Coins: Hold and Win, Buffalo Power: Christmas, Wolf Power: Hold and Win, Burning Wins x2, Legend of Cleopatra Megaways, Solar Temple, Burning Wins: classic 5 lines, Hot Coins: Hold and Win, Spirit of Egypt: Hold and Win, Wolf Power: Megaways.
Make sure to place qualifying bets of 0.50 EUR.
Only real money bets qualify. If you have any bonus money on your account, finish them before participating in this campaign.
Prizes will be credited to players' accounts automatically.
The rules are not that difficult. So we hope you will not have trouble with this promotion.
Tips on How to Win Cash Prizes
Many players are struggling to get prizes even though they do their best, place big bets, and stay active during the tournaments. Here, we give you a few tips that can help you take the top place on the leaderboard and win cash prizes:
Play from the beginning
If we speak about standard casino tournaments where you need to earn points and take top place on the leaderboard, you need to get in the game from the very beginning.
Players have more chances to earn as many points as possible if they have more time for it. When you join the competition in the middle or at the end of it, there is no point in participating. However, if the winning condition depends on how much you wager and win, you can easily improve your status in a matter of minutes by placing big bets.
Get rid of bonus money
All promotional campaigns and tournaments accept only real money bets. But if you have some bonus funds on your account, you need to spend them all on other games before participating in tournaments.
However, it depends on your casino how you spend your real money balance and bonus balance. In most cases, casinos let you use real money first, and then bonus money. But there are sites, on which you can simultaneously use both real and bonus money in proportion.
Place bets wisely
During tournaments, it is easy to spend all money away. But no matter how many bets you've made, it may not be enough for winning prizes. So you need to be smart.
Learn how points are calculated and create your betting strategy. For example, if it's a multiplier race, meaning the win multiplier determines your score, it doesn't matter how much you bet. The best decision here would be to place a minimum required bet.
But if the win condition depends on how much you win from a single spin, you'd better place big bets. Because if you wagered $2 and won $500, your score would be 500 points rather than if you won $125 from a $0.50 with the same multiplier.
Win Cash This February!
All in all, casino tournaments and different promotions are always a great way to have fun and grab some cash. What can be better than winning free money? No need to complete wagering requirements. Just make bets, play, and have fun!
If you are looking for the best casino rewards, we recommend you to check out our gambling blog where we post articles about casino rewarding systems, active bonuses, and promotions.
Rate this post, please:
5
4
3
2
1
FAQ
Yes, you can. Booongo and Playson provide games compatible with mobile devices. So you can take part in their tournaments even from your phone. Make sure to have a stable internet connection to compete for your position in real-time.
No, it is not necessary. To join tournaments from Booongo and Playson, you need to open the qualifying games. Make sure to place bets of at least o.50 EUR or currency equivalent to be eligible for the prizes.
No, you can't. If you read the promotional terms carefully, you will see that only real money play qualifies. If you have bonus money, use them first and meet the wagering requirements. Only then you can take part in slots tournaments.
More articles on gambling topic