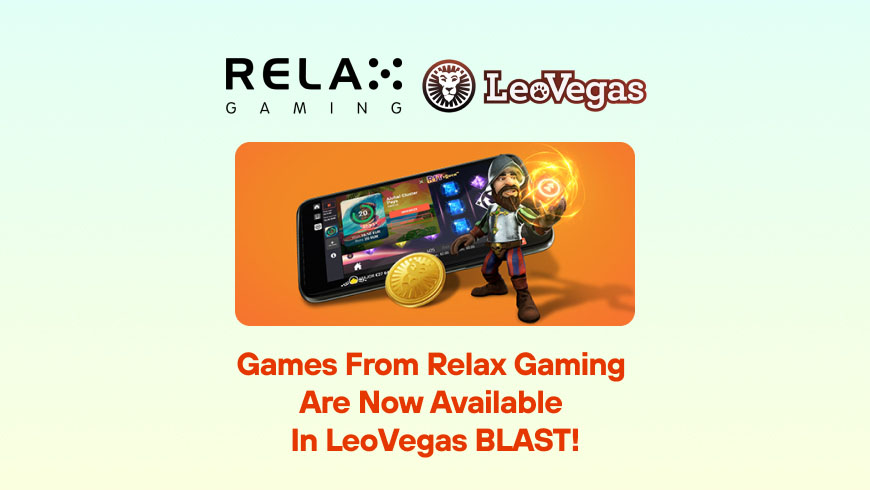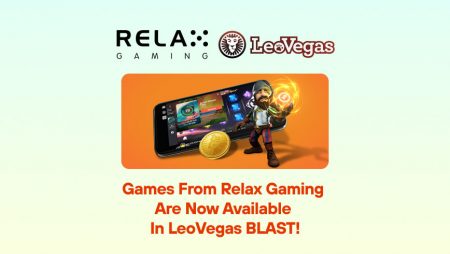 The innovative gaming feature from LeoVegas casino is starting to gain popularity among software providers. Before, LeoVegas Blast mode was only powered by NetEnt games. But this time, slot titles from Relax Gaming are added to the collection. If you are excited to play only bonus rounds that Relax Gaming created in its games, head to LeoVegas right now following the "Play Now" link above.
What is LeoVegas Blast?
For those who skipped our news about NetEnt games in LeoVegas Blast mode, we'll explain the mechanism of this engine again.
BLAST! is a unique engine created by LeoVegas. Simply put, in this mode, players can play video slots but skip animations and base game rounds. But when the reels hit the bonus game, players can open up the game window and watch the results of the free spins game. Moreover, it is possible to play multiple games at a time.
The engine is programmed to stop the reels from spinning once a bonus round is triggered. In this way, LeoVegas casino enhances players' engagement. Indeed, regular slots players get tired of repetitive spinning. And the Blast mode allows them to skip this routine and enjoy only bonus rounds.
Blast mode doesn't affect the game's payback in any way. So, using the Blast mode you can win as much as you would do playing games as normal.
How to Play Relax Games in Blast
If you have never tried something like this, you definitely should, just because it's cool and innovative. But speaking seriously, to give Blast a try, you need to be a registered LeoVegas player. As soon as you sign up and are ready to play games for real money, follow these steps to start:
Log in to LeoVegas.
Head over to the BLAST! lobby by clicking on the relevant icon at the top of the screen.
Open a game from Relax Gaming.
Set your wager and the number of auto-spins.
You can add up other games available in the Blast mode.
Then, the games will be played in the background, so you can do whatever you want at the casino.
As soon as the bonus game is triggered, you will be notified.
To enjoy the bonus round, open the game's full mode.
It is pretty easy to get started with the Blast mode. You can choose games from Relax Gaming and NetEnt. Hopefully, soon the collection will grow increasingly as more and more game providers join LeoVegas' Blast.
All games in the Blast mode are available on mobile. Therefore, you can play only bonus rounds while on the go.
Tips to Play Blast Games
Using this new feature from LeoVegas, players can come up with awesome ideas on how to increase the payouts. Here are a few tips you can apply for playing in the Blast mode:
Play multiple games simultaneously. The Blast feature allows playing several games at a time, so why not use this opportunity? Choose the games with the highest RTP and activate them in the Blast mode. Place bets and set the number of auto-spins to get started. You can adjust these settings to each game. Once the bonus round is activated, increase your balance with the winnings from mini-games.
Make a generous deposit. Playing several games at a time in automatic mode can be costly. So, get prepared for it in advance. Make a deposit that will allow you to play a few games at a set number of spins.
Keep an eye on your balance. Having slots in the background means being unaware of what is going on in the games. You might be hitting a losing streak and spend more money than you planned. So, if you notice that your budget decreases quickly, maybe you need to check out what's up.
Quit at the right time. When the bonus round appears to be very generous for you and grants you thousands of dollars, you need to cash them out at once. It's probably that you won't have another chance to increase your payout that day. So, you'd better cash in while you can.
Set limits. When you play games in the background, time can fly fast. So, don't forget to take control of your spendings. Set time and betting limits to maintain an advantageous position.
At the Turn of Innovations
Relax Gaming is pretty excited to launch games in partnership with LeoVegas. As Simon Hammon, CPO of Relax Gaming said: "We're always looking to offer the best and most pioneering ways possible for players to consume our content, and working with a top-tier operator and respected name like LeoVegas has provided us with that opportunity. BLAST! is a fantastically innovative feature and it really is an exciting step forward in iGaming, we're delighted to be working alongside such an innovative partner."
In his turn, the Head of Strategy and Business Development at LeoVegas, Sam Leggott added: "We want to give our players the greatest gaming experience there is and to do so, we continue to innovate."
LeoVegas is an ever-progressing casino operator. With its new gaming features that the online gaming world hasn't seen before, LeoVegas is on the verge of innovations that will change the iGaming industry.
The company constantly creates new ideas and makes them real with the purpose to offer the best gaming experience for players. And adding up the top-performing games from Relax is another step forward for LeoVegas.
In Conclusion
Integrating the Blast mode into the games from Relax Gaming will certainly increase the popularity of the already well-known game provider. Relax Gaming creates premium casino content and offers more than 1000 games in categories of slots, bingo, and poker. If you want to give them a try, there is no better platform than LeoVegas. What is more, LeoVegas players have a great opportunity to step into the future today and try casino games in the absolutely new Blast feature that allows players to enjoy only bonus games.
Rate this post, please:
5
4
3
2
1
FAQ
Unfortunately, it isn't possible to use free spins on games from the Blast section. But you can play them with the bonus money that LeoVegas gives you. According to the terms, deposit bonuses can be used for all qualifying games. Therefore, if the game titles from the Blast section qualify for the bonus, you can play them with the extra money.
Of course, you can. In fact, you can do anything while playing games in the background. As soon as your balance shows a considerable sum of money, you can head over to the cashier and withdraw your winnings. Though, make sure to leave some money as a budget for other Blast rounds.
Relax Gaming provides awesome high-quality games. To date, its collection comprises more than 1000 online casino games. Some of the best slot titles are Money Train 2, Multiplier Odyssey, Marching Legions, Templar Tumble, Magnetz, and others. Try as many Relax' games as you can to find your best one.
More articles on gambling topic