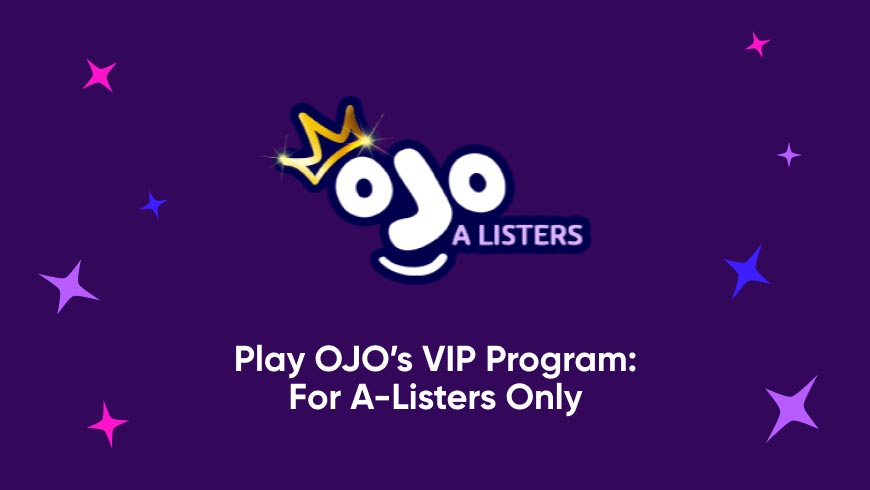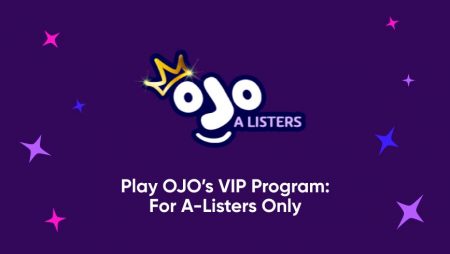 One of the most enchanting websites for players is Play OJO. Almost everything that you are looking for in a casino is there at Play OJO; from wager-free bonuses to no maximum win limits. Indeed, the casino operator is very friendly and loyal to players. But the best treatment is given to the so-called A-listers who have a VIP membership.
As soon as you become an A-lister, you become a part of an exclusive club where all A-listers receive the best rewards and treatment. The OJO will provide you with exclusive bonuses, while the managers will take care of you and assist you at every step. If this describes how you like being treated, then the A-listers program is for you.
Becoming OJO A-Lister
At Play OJO, there's no point system that could help you earn entry to the club. It's much easier to become an A-lister. In fact, there are two ways to do this.
You can register at Play OJO casino, make pretty big deposits, play for real money, and take your cash. Simply put, you should enjoy your stay at Play OJO, but make sure to place high stakes. By doing so, you have more chances to receive an invitation from the A-List Managers that check players' activity and suggest the top players join the OJO VIP program.
If you don't want to wait till you get invited to the exclusive club, you can contact the A-List managers by yourself. Visit the A-Listers page on the casino menu and find the button "Make me an OJOer". Click it to get in touch with the managers. They will tell you about the conditions to join the VIP club. If they think you deserve to be treated as a VIP member, the casino will be happy to welcome you to the VIP.
Benefits of OJO A-Listers Club
Once you are a VIP OJOer, you deserve all exclusive rewards from the casino. It's worth saying that Play OJO's program for VIP players is very beneficial. Find the exclusives below and see for yourself.
A dedicated manager. Your personal manager from the A-List team will help you every time you have a problem. No need to wait for a customer support reply, simply ask your manager via your preferred messenger.
High limits on withdrawals. No limits for transaction amounts per day. You can withdraw up to $10k multiple times a day.
Fast withdrawals. Your withdrawal requests will be in priority for the casino's payment team because your dedicated manager will nudge them to process your payment faster.
Increased betting limits. If you prefer to take a seat at a live casino table, you can place higher stakes because your betting limits are increased.
Exclusive bonuses. The so-called kickers from Play OJO are enhanced for VIP players. You will be given daily offers such as tournaments, free spins, and so on that are completely free of wagering requirements.
Luxury gifts. These treats from Play OJO are some of the most valued. The casino can reward you with electronics, vouchers, and tickets abroad.
Super Spin and Mega Spins. These are the prizes from the OJO Wheel. If you spin it, you can receive spins of a higher value than standard free spins.
Exclusive challenges. Competitions and tournaments between all A-listers with a higher prize pool.
Birthday gifts. The top OJOers also receive presents for their birthday. And this is something really special from Play OJO.
Play OJO: the Highest Paying Casino
Play OJO casino has the OJOplus system, according to which the games at Play OJO have a higher payback. OJOplus gives money back on every bet players make on all casino games. There is no limit and no restrictions.
So, for example, if you play a slot game that traditionally pays out 96.4%, at Play OJO the game will pay out 97%. The free cash can be won at any game, even those that already feature a high RTP. So, there is one more reason to join the VIP club at OJO Casino, the highest-paying online casino in Canada.
A-Listers Program Policy
There are not many rules you should remember, but a few of them are essential if you want to keep your status as the VIP OJOer:
Access to the club is by invite only. If you are doing your best to join the VIP program, check out your email box regularly.
The program is not related to the level of a player. Regardless of your level and status at the casino loyalty, you can receive an invitation to the VIP club.
Every month, the statuses of A-Listers are evaluated by the managers.
If your activity at the casino is dropped, you might lose your status of the A-Lister and your VIP privileges.
These are the basic things you should keep in mind. So, if you got lucky and became an A-Lister, make sure to be an active player. Make regular deposits, place high real money stakes, and take part in various challenges and promotions from Play OJO.
Take All OJO's Attention!
VIP players receive the best treatment, the most awesome prizes, and the biggest winnings. If you are ready for all of these, you should become an A-Lister. Create your account at Play OJO and start playing as if you are already an A-Lister. Draw the attention of A-List managers and show them that you deserve to be treated as a diamond. With this position, you will not be waiting for the invitation letter for too long.
Rate this post, please:
5
4
3
2
1
FAQ
The VIP program of Play OJO differs from VIP clubs at most online casinos in Canada. To become an A-lister, you don't need to earn points and other stuff. Besides, Play OJO has generous rewards for A-Listers such as exclusive events, physical prizes, kickers for better gaming. The VIP treatment also includes a dedicated manager, higher withdrawal limits, faster withdrawals, and etc. But before you join the program, you can also benefit from playing at Play OJO. The casino offers more than 3000 games, on which you can use bonuses and cash out your winnings. No need to meet wagering requirements or reach a certain minimum withdrawal limit.
It can be anything. But whatever the event or trip is, it will not disappoint you. In previous times, A-listers could get a trip to Dubai, Paris, or Rome. As for exclusive events, A-listers could receive tickets to tennis and other sporting events. Become an A-lister to get a chance to participate in casino's giveaways and challenges with awesome prizes.
No one can tell you exactly after how many days your plays you qualify for the VIP program. But we can surely say that if you do everything right, you will get the invitation soon. Make sure to make regular deposits and play games for real money. If you want to boost it, place high stakes and take part in Play OJO's promotions.
More articles on gambling topic