Microgaming is a real profi when it comes to creating online roulettes. Real Roulette with Sarati is another table game with a recorded video of Sarati who drops the ball. You can estimate the luck in her hand by the high RTP of 97.30% of the game.
How to start?
The roulette is classic European style and has got classic rules for the 0-36 numbered table. To begin the game you need to place the bet, or even multiple bets, thus you will have higher chances to result in a win. First of all, click the chip to select its value. The higher the value, the more the win. After this step you can choose the places where you put the chips. Mind that the best winning result will be if you bet on the groups of black, red, numbered groups or odds and even at your wish.
The game allows you to bet in two ways, actually, using two tables: regular and track.
Regular bet table includes single numbers and denominated groups.
Track bet table lets you place multiple bets.
Sarati has got something special for you. If you click the star ' favourite' sign, it will lead you to the favourite and special bets. Favourite ones are saved by you, specials are prepared by the game. You can place several special bets, their placement on the table you can see on the right.
The following buttons are for the further navigation of the game and bets.
SPIN – click it when you are ready to play with the selected bets
DOUBLE – all bets will be multiplied by 2
UNDO – cancel the previous betting step
CLEAR – clear up the whole table
After you finish all the bet preparations and click the spin, Sarati invites you to see the result. Video will show you the current win number, if it suits the positions you have chosen beforehand, then you win a sum. If not, you lose the total bet for the round. Continue the game to raise the balance.
Conclusion
Classic European game managed by a beautiful blond Sarati will leave you only a nice impression. The game panel is clear containing even the statistics info. The options and settings let you see the paytable, switch on or off the sound and quality of the game. Set the preferable settings and enjoy the roulette following your favourite bet strategy.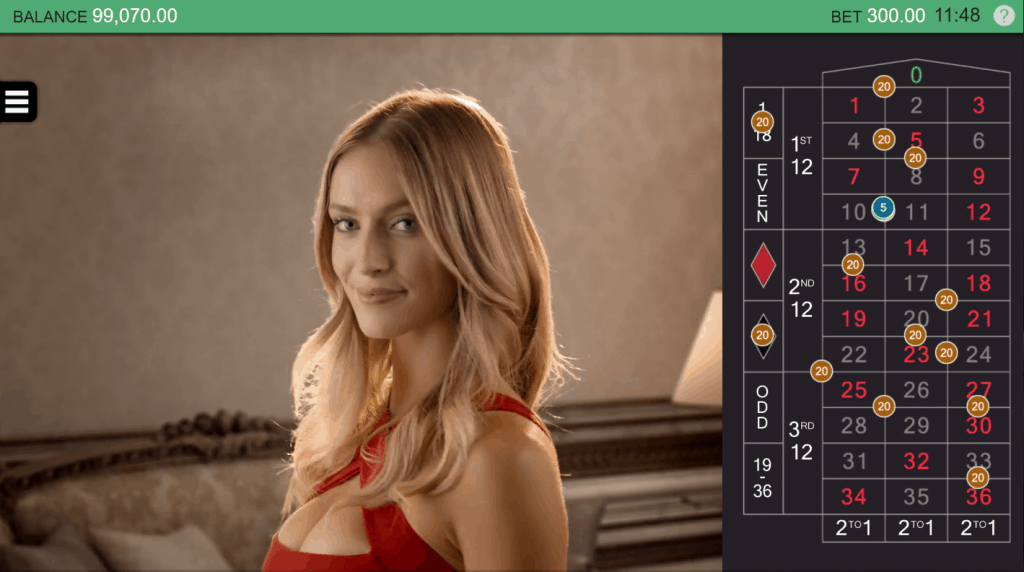 More articles on gambling topic