The world history is one of the most interesting subjects you learn in your life. Ancient Greece, Olympus with its gods, myths – these topics have always been popular. It is used in literature, movies, animation and, of course, the creators of slot machines used it as well. And all because of a history and everything connected with it is incredibly attractive, especially when it comes to Ancient Greece. The main character of this video slot is, as you probably already guessed, Zeus the Thunderer. This slot machine was developed by the programmers of the famous Macrogaming corporation in collaboration with Triple Edge Studios. The developers have done everything possible in order to make it interesting and exciting, which is clearly evidenced by the ratings, the players have already appreciated it properly. Ancient Fortunes: Zeus is a slot machine that has 5 spinning reels and 15 cells on which various symbols drop out; it has no visual effects. There are 10 winning lines which are fixed by default. The range of rates varies from 10 to 70 coins. Bets are placed before the start of the round.
Bonus features of the Ancient Fortunes slot machine: Zeus.
The first bonus feature is Rolling Reels. This bonus is activated every time a winning combination is formed. As soon as the player has formed it, he receives a prize for it, and the symbols that make up this chain will disappear. The empty cells from which the elements have disappeared will be filled with others, those that were previously above. If you succeed in forming a sequence again, the Rolling Reels bonus will start again. There is no limit on the number of launches.
The second bonus feature is the Multiplier Trail. This type of bonus will become active from the second restart of the Rolling Reels bonus. The beauty of this bonus is that it will additionally increase the odds that will be taken into account when calculating payments. First, the coefficient will be x2, then x3, and the maximum can reach x7.
The third bonus feature is Free Spins. When three, four or five scatter (lightning) symbols appear on the playing field, ten, fifteen or twenty free spins will become available to the user.
Mobile version also exists. Make sure you try playing on your phone.
Conclusion
Finally, I would like to note that this device really turned out to be solid and exciting, although at first glance it might seem to you that there can be nothing new in the hackneyed plot. Here you will be pleased with: non-standard free spins, bonus features Rolling Reels and Multiplier Trail, high-quality graphics, melodic soundtrack, not quite an ordinary system of forming winning combinations, good returns and excellent payouts.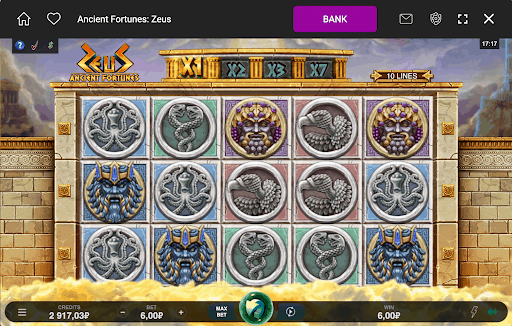 More articles on gambling topic