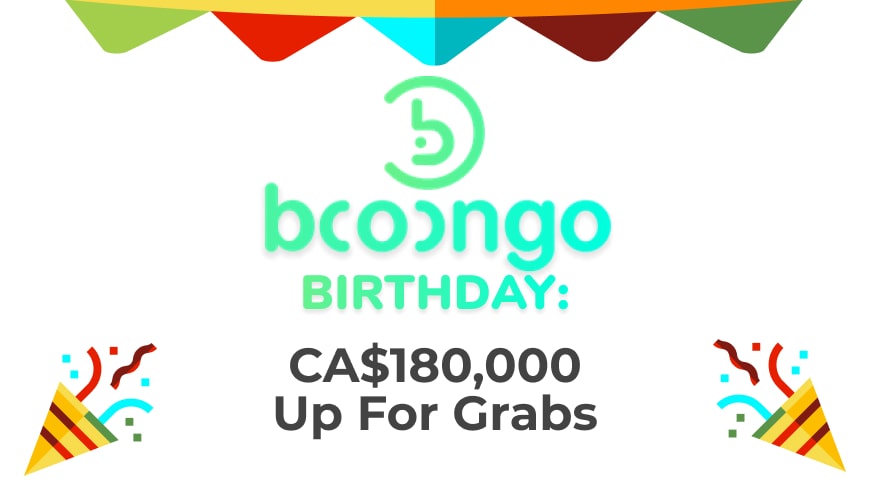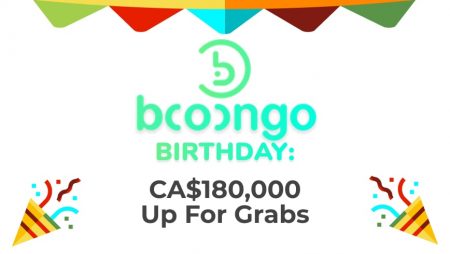 In May, Canadian online casinos and software providers arrange many promotions and tournaments. We've already told you about Rizk's Scratch'n'catch offer, in which you can win a smartphone; and about the Lucky Days offer with $7,500 in prizes. But this time, online casinos have prepared something way bigger for the players. It's CA$180,000 spread over the winners of tournaments from Booongo game developer!
Booongo is celebrating its sixth birthday and raffles CA$180,000 among the best casino players. It will be running for 3 weeks with a series of daily prizes from the total daily pool of CA$7,500. But this isn't all. You can also compete for the extra weekly prize from the prize pool of CA$15,000!
We are sure you can't wait to start playing, but let us take a bit more of your time and tell you more details about the Booongo Birthday Tournaments. And as usual, we are beginning from the most important: where you can grab your share of CA$180,000!
Booongo Online Casinos
In the following online casino list, we selected sites that offer you to play Booongo games and also take part in the Booongo daily tournaments with cash prizes. Join the one which suits you best and go get started!
Daily Tournaments with CA$7,500 Prize Pool
From May 6 till May 25, Booongo arranged 3 equal series of 6 tournaments each. During this period, you can win a share of $7,500 every day.
The first series of tournaments starts on May 6 at 0:00 UTC and finishes at 23:59 UTC on May 11.
The second week of tournaments runs from May 13, 0:00 UTC to May 18 23:59 UTC
And the third part of the offer starts on May 20 at 0:00 UTC and finishes on May 25 at 23:59 UTC.
Daily Prizes
The prizes from daily tournaments are spread over the players with the highest scores. The top leaderboard player will take CA$750, and the least — CA$15.
Here's how the prize pool is shared:
1st place — CA$750
2nd place — CA$450
3rd place — CA$375
4th – 5th place — CA$115
6 – 10th – place — CA$75
11 – 20th place — CA$45
21 – 100th place — CA$38
101 – 150th place — CA$23
151 – 200th place — CA$15
How to Win
Booongo tournaments take place in certain Booongo slots, about which we will tell you a bit later. Playing these games with at least 50 spin amount and a minimum wager of CA$1.5, you will receive points for the leaderboard.
During all periods of the daily tournament, your points will be summed up and added to the leaderboard.
The scoring system differs depending on the day of the week. Thus, on Tuesday, Thursday, and Saturday, you need to score the highest win-to-bet multiplier. For example:
You bet $5 and win $150, thus your win-to-bet multiplier is 30 (150 divided by 5). So, you get 30 points.
On Friday, Sunday, and Monday, the points are scored according to the biggest payout. For example:
If you bet $2 and win $240, you have 240 points.
Weekly Series Leaderboard with Prize Pool of CA$15,000
When a regular series of the daily tournaments are closed, you can also receive a share of CA$15,000. In other words, it will be on May 11, May 18, and May 25.
The prize pool is spread over 250 Booongo players. The top player will get $1,500. The following prizes are shared:
Place 1: CA$1,500
Place 2: CA$1,200
Place 3: CA$1,050
Places 4-5: CA$750
Places 6-10: CA$300
Places 11-30: CA$115
Places 31-50: CA$75
Places 51-100: CA$38
Places 101-150: CA$23
Places 151-250: CA$15
How to Win
To take a position in the Series Leaderboard and win a prize, you need to collect a certain number of points.
If you pass qualification in each regular tournament, you get 200 points.
For every 100 wagers placed during the daily tournaments, you receive 1 point.
Depending on the place you took in the daily tournaments, you can receive from 30 to 1000 leaderboard points.
Important Details About Booongo Offer
Obviously, you will only be eligible for the prize if you gamble with real money bets. You can compete with other players in the following Booongo games: Wolf Saga, Magic Ball, Dragon Pearls, Magic Apple, Scarab Temple, Aztec Sun, Super Rich God, Lord Fortune, Book Of Sun Choice, Great Panda, Tiger Stone, 15 Dragon Pearls, Sun Of Egypt 2, Sun Of Egypt, 3 Coins.
Start playing right now, as these tournaments have no fees and no wagering requirements. All money prizes will go to your cash account!
Celebrate Booongo's Birthday!
Perhaps the best thing that you can do to congratulate Booongo is to play their games one more time! And it's better done in the Birthday Party tournaments with an overwhelming prize pool of CA$180,000! Compete against the other players and grab your cash rewards today! Remember that the tournaments run for 3 weeks only, so make your time to celebrate it with Booongo online casinos!
Rate this post, please:
5
4
3
2
1
FAQ
To qualify means to meet the certain terms. In case of Booongo birthday tournaments, you need to play participating games with at least 50 spins at a minimum of CA$1.5 bet per spin. Make sure you have complied with these terms. Therefore, you will be eligible for the weekly prize from the CA$15,000 prize pool.
Booongo is a game developer which started its operation in 2015. It has been delivering high-quality online slots in mostly Western and Asian themes. To date, they have developed nearly 50 video slots available on desktop and mobile devices. You might know Booongo for games such as Sun of Egypt, Scarab Temple, 777 Gems, Book of Sun, and others.
To take part in the tournament, you need to log in or sign up at the Booongo casino. Make a deposit enough to make at least 50 spins per CA$1.5. Then, open any of the qualifying games mentioned in the list and start playing. The current scores will be shown on the in-game tournament leaderboard. The games will update the results in real time.
More articles on gambling topic